Bucher-Magazin, Aug/Sept 2018 (German review)
"In his debut novel, Griffin tells a story of powerful, lifelike and fact-paced action…"
4 stars.
Rettung is now out: the German edition of Two Roads Home
Nagel & Kimche have just released Rettung, the German edition of Two Roads Home. I was in Berlin for the release and celebrated with my brother and his family who live there. It's a beautiful hardcover book. I flipped through and didn't understand a word even though I knew every thing it said!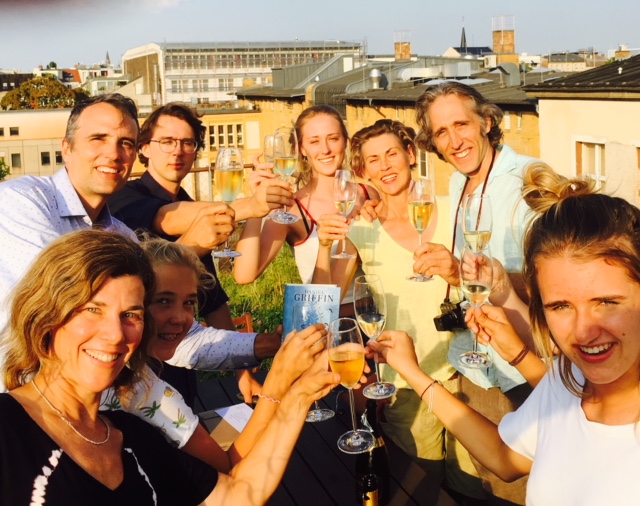 Kobo Deal of the day Feb 28
To celebrate the last day of February, Kobo is Making Two Roads Home their deal of the day: Check it out.
Review in The Martlet
Brianna's books in the Martlet reviewed Two Roads Home: "Two Roads Home never slows down. I read the entire book in a weekend; the pace and tension just keeps building and building."
Feature in Kingston Whig Standard
Weekend feature about Daniel Griffin and Two Roads Home.
Buried in Print Review
"The language is uncluttered, functional and spare…. The dialogue, in particular, boots the pacing of the novel. This is not a page-turner because it is based on a group of activists; it's a page-turner because the language is finely tuned."
Alberta reading tour
Monday, November 27 at Audreys Books in Edmonton, 7pm, 10702 Jasper Avenue
With Alison Watt
Wednesday, November 29 at Memorial Park Library, Salon, main floor, 1221 2 St SW, Calgary
With Alison Watt and Susan Ouriou
Review in Quill and Quire
"Griffin's novel offers no easy answers, but this is appropriate, given that the questions it poses are complex and thorny. The ultimate message of of Two Roads Home is that the way we navigate between conflicting ideals and imperatives owes as much to chance and circumstance as it does to determination."
Ontario reading tour
Wednesday, November 1
Toronto reading – Ben McNally Books
With Rebecca Rosenblum, Mark Sampson, Emily Saso
6:00 – 8:00 pm
Thursday, November 2
Kingston Reading – Novel Idea
7:00 pm
Saturday, November 4
Guelph reading – Bookshelf
With Greg Rhyno
2:00 pm
* * * * *
"A wonderful book, one I haven't been able to put down all week."
-Khalil Akhtar CBC Radio's North by North West, Oct 7.
* * * * *
German Edition coming!
Transatlantic announces the sale of the German rights to Two Roads Home to Dirk Vaihiner of Nagel & Kimche of Hanser Verlag
* * * * *
Two Roads Home book launch in Victoria,
Thursday September 21 at Fortune Gallery, 537 Fisgard St.